Meet Diana M.
Diana M. is an 18-year-old attending high school in a neighborhood called Back of the Yards. This area is identified by Chicago as one of the "most in need of safe and authentic spaces (in the city)." Diana currently attends our program at Curie Metropolitan High School, but her story with Guitars Over Guns begins 6 years ago as a middle schooler when she met mentors in her music classroom. Now in her senior year, Diana continues to pour her energy into Guitars Over Guns because she loves the community and opportunity it provides, and finds solace in her self-defined "safe place", even in the midst of global challenges. Her longevity in the program is owed to her "strong relationships built with mentors, Andrew and Phil." Guitars Over Guns is not only a safe place for Diana to practice her vocal and ukulele skills with peers and mentors, but also an environment that has fueled a renewed sense of self-love and thus catapulted her success through high school.
In fact, when mentors Andrew and Phil first met Diana, they asked her to describe herself using one adjective. Diana responded with the word: "weird." Through the next 6 years, she's learned to embrace all of her uniqueness with the guidance of her Guitars Over Guns mentors, all of whom are trained in SEL (social and emotional learning) best practices.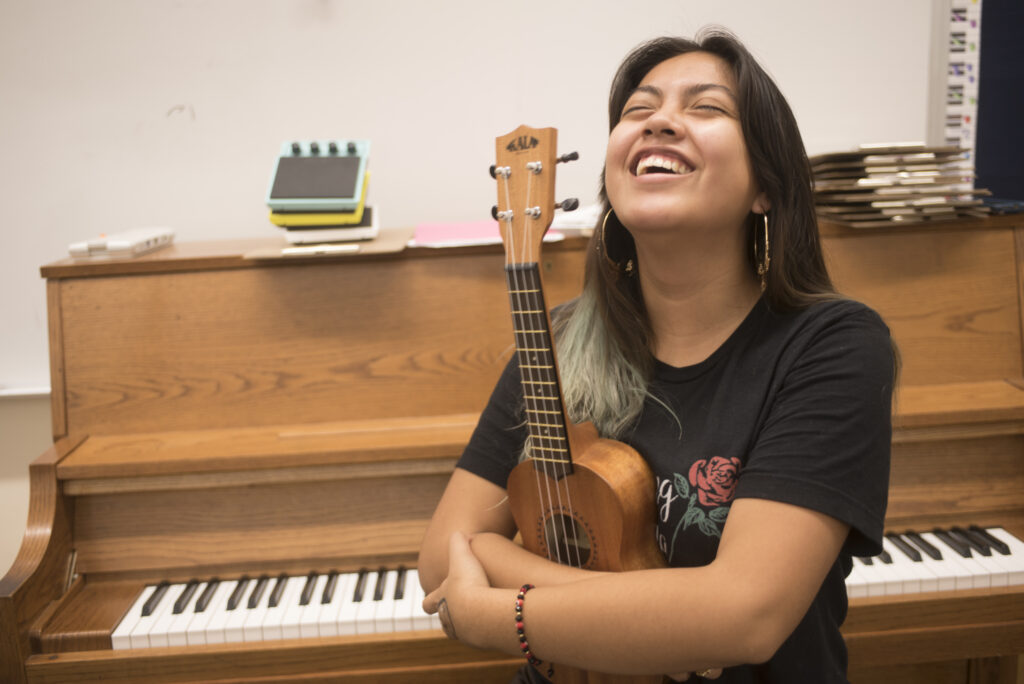 Diana has thrived within our organization, so much so, she wants to pay it forward and stay actively involved. This year, in her first formal employment opportunity, she will be working with her younger peers at her former middle school to help them unlock their potential through the Guitars Over Guns curriculum. For her senior year, Diana says she is most looking forward to "mentoring students".
Through the darkest days of the COVID pandemic, Diana's relationships with Guitars Over Guns mentors and peers continue to grow; however, many of her peers and neighbors do not have the same support.
The threat of violence in Chicago has become even more serious over the last 18 months, as the rate of youth dying at the hands of a gun has tripled from 2020 to 2021, according to a Sun-Times analysis. These deaths include ten children under the age of 15, up from three during the same time period in 2020.* Students in Diana's neighborhood are among the most critically affected by these statistics, resulting in unfathomable hardship for Chicago's youth.
There is hope for a better future.
In 2022, Back of the Yards will be among the handful of neighborhoods where we send mentors, committed as ever to ensuring a brighter future for our students. Together, we can create safe spaces for our youth right now. We are committed to reaching 1,000 youth across neighborhoods like Back of the Yards by 2030.
The ripple effect of empowerment.
The Guitars Over Guns program provides young people a safe, musical haven directly in their schools between 3-6 pm. It is reported that during this time, about 75% of youth-involved violent crime occurs. We train musicians to combat violence through evidence-based Social Emotional Learning techniques. Imagine a really cool band came to your school to perform, but instead of playing one show and moving on, they decided to come back and work with you for six or more hours a week, every week, until you graduated — that's what it feels like to work with Guitars Over Guns mentors. 
With these long-term relationships in mind, we are proud to report 85% of our students have improved academic outcomes, and 96% say they feel more confident, culminating in performances on stages across Chicago including Reggie's Rock Club to the United Center (impressive!). 73% of Guitars Over Guns Chicago mentors are people of color, and nearly half graduated from CPS schools themselves, making it easier for our students to see themselves in their admired mentor. 
Guitars Over Guns believes that those who can thrive in the face of adversity, have the capacity to be great leaders. We believe that the key to unlocking that capacity is a caring mentor who connects our vulnerable youth with the transformational power of music.
Please consider a donation today to help us provide a safe and empowering place for students like Diana.  We can make real change together.