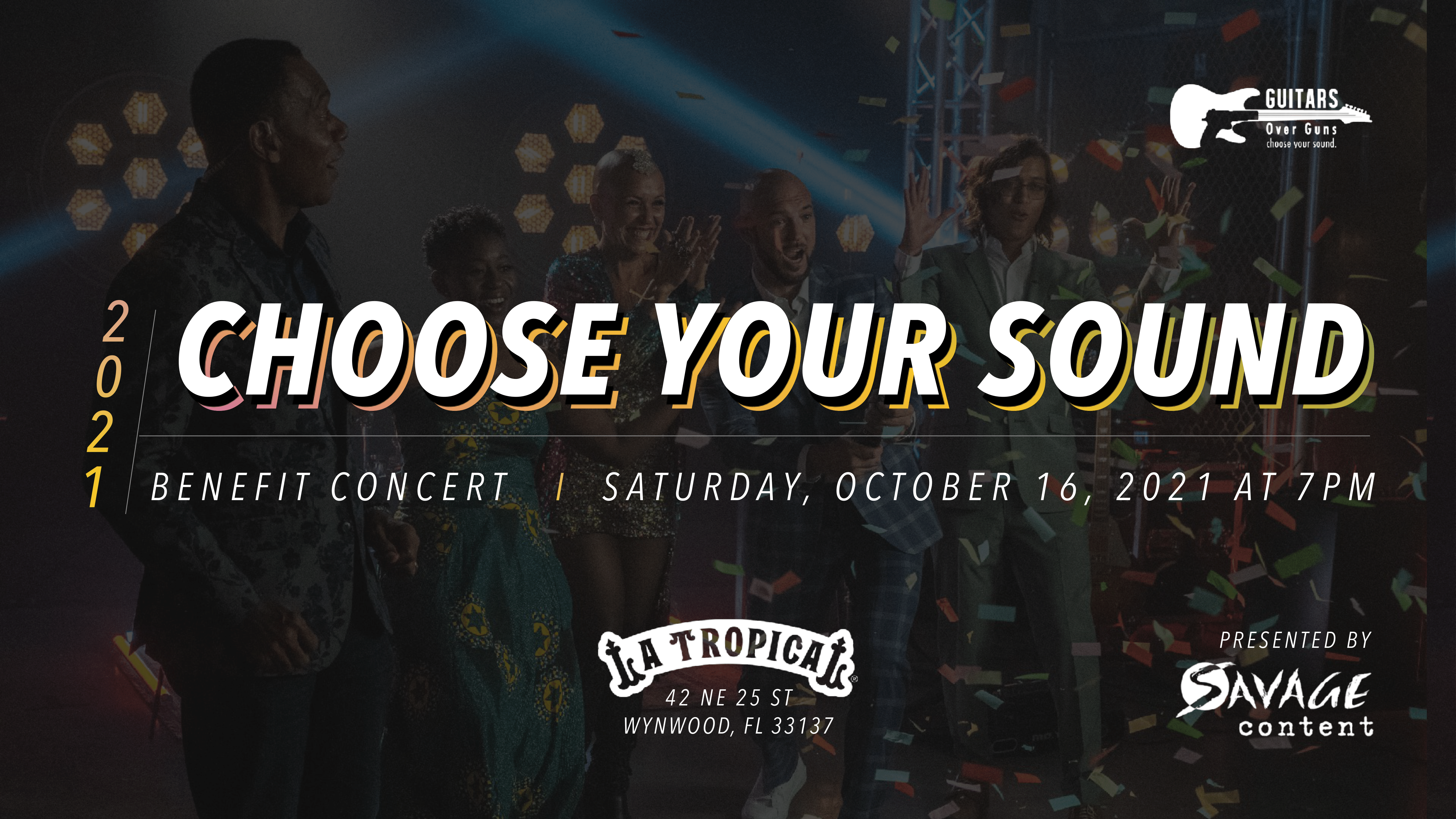 7:00PM – 8:30PM
Cocktails & Auction
8:30PM – 10:30PM
Choose Your Sound
Concert & Main Event
10:30PM – 12:30AM
After Party
Concert Continues
Choose Your Sound is Guitars Over Guns' signature annual fundraising event, attended by key supporters including friends, donors, entertainment industry luminaries and community stakeholders.
This year, we have returned to an in-person event, reimagined and curated in partnership with one of Miami's coolest new venues, La Tropical, located in Wynwood.
Join us for an evening filled with incredible performances from students, mentors, alumni & special guests, amazing food & drinks and an unbelievable silent auction. 
An epic celebration of mentorship through music and the arts.
It's the hottest party in town. October 16th, join Guitars Over Guns for our 8th Annual Choose Your Sound Benefit Concert, presented by Savage Content!
Guests will enjoy incredible performances from Guitars Over Guns mentors, alumni and special guests, not to mention upgraded partner experiences, dinner & drinks and a jaw-dropping auction.​
This event celebrates Guitars Over Guns' 13 years of making music and changing lives. Cuts in funding for the arts and after-school programs mean our students have fewer opportunities than ever, and as the students and families we serve face the many challenges of a post-COVID world, we are reminded every day that this type of work has never been more important.
In 2020, our virtual event raised $435,000 to transform the lives of our youth through the power of music and mentorship. This year, get ready to don your rockstar finest, blow our $600,000 goal out of the water, and be part of a movement that empowers deserving youth in our community to create, succeed and thrive!
KENT SAVAGE
2021 Choose Your Sound Honoree
Kent Savage is an active philanthropist and social entrepreneur who has become, in a short time, a significant supporter and partner to Guitars Over Guns. In addition to being recognized as an international expert in the field of supply chain technologies, Kent was once a jazz musician himself, and his appreciation of music immediately connected him with the students, staff, mentors and other stakeholders of Guitars Over Guns. Kent understands the unifying power of music and how its healing powers can bring hope and light to the world. This past year, our communities, students and mentors stood strong through many challenges. Kent provided the support and dedication to inspire our mentors and students to voice their feelings and advocate for social justice through music. He shared the vision for our students and mentors to conceive and create an album of their own voices, in their own words, as a way to articulate what we all experienced in 2020. A true partner and friend to Guitars Over Guns, Kent has also supported our Mentor Relief Fund and is one of the largest contributors to our Choose Your Sound Benefit Concert through his own artistic platform, Savage Content. Kent has become a part of the organization and is active in meetings, serving on committees and sharing the mission of Guitars Over Guns with those around him.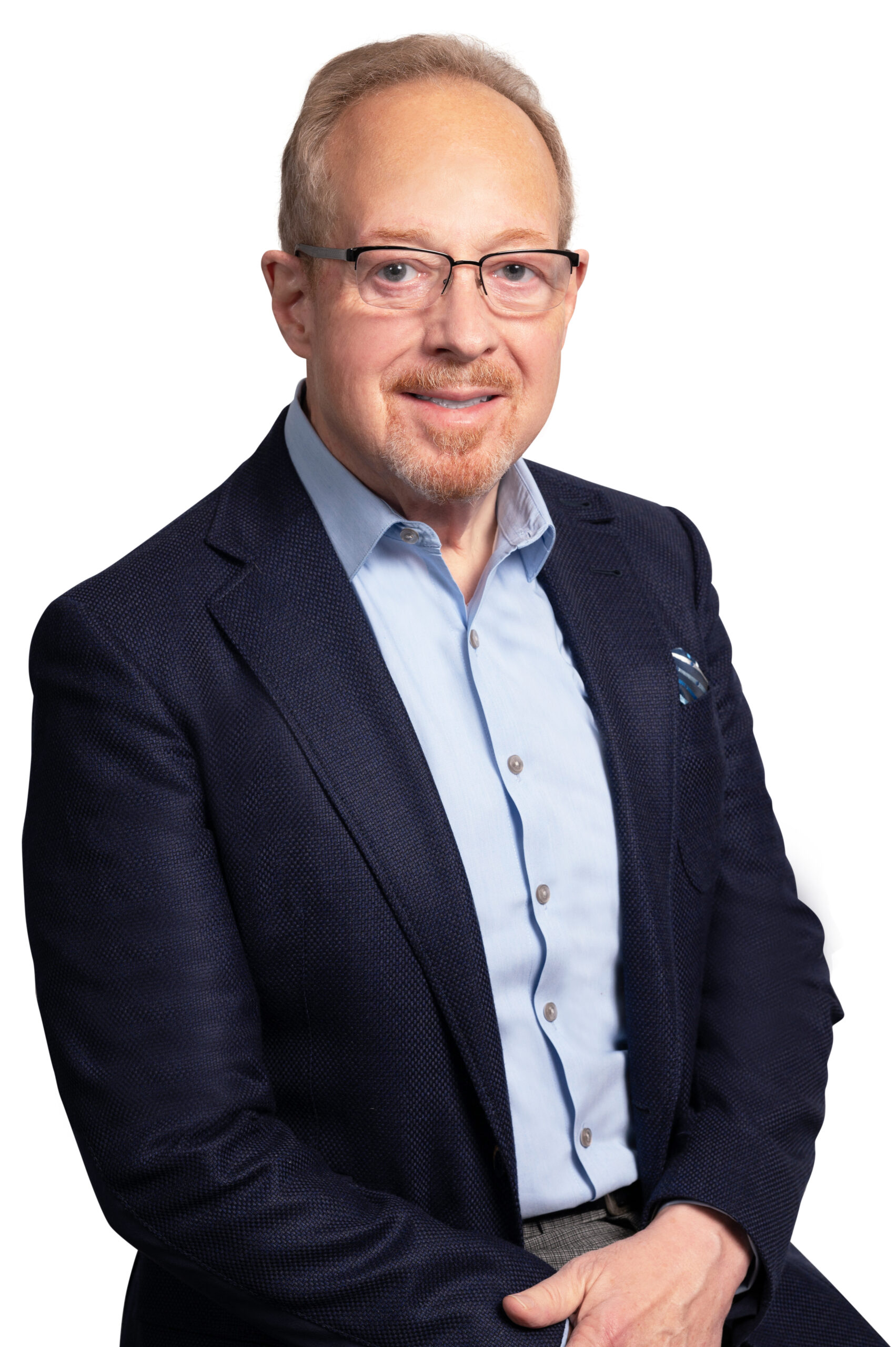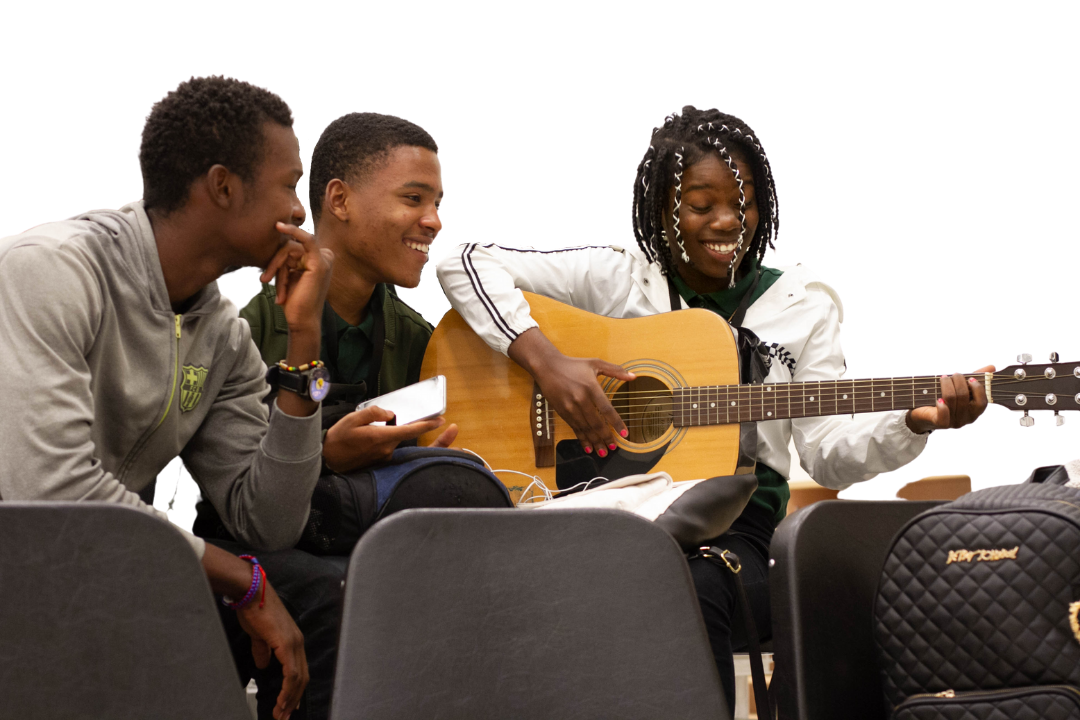 From curtain call to final bow, our Partners make an impact every step of the way. As an official Guitars Over Guns Partner, you're a VIP in every audience we entertain. From our monthly GOGO IN THE HOUSE showcases to our Choose Your Sound Benefit Concert – and all things in between – you'll groove to the music, watch our kids shine on stage, and know that you are making a difference.
Partner benefits begin immediately and include GOGO in the House and Choose Your Sound 2021.
CINDY HUTSON
La Tropical Executive Chef/Owner
In 1994 award-winning chef Cindy Hutson met her life partner, Delius Shirley. With an inherent passion for cooking, but no formal training and three kids to care for, Hutson was hesitant to open her first restaurant venture. Against the odds and with the extra support of Shirley, Hutson took the leap of faith and that same year opened Norma's on the Beach. Rave reviews touted Hutson's cuisine as "the best Caribbean restaurant in South Florida" and international support from USA Today, The New York Times, London Times, Chicago Tribune, Chef Magazine and Eater, who named Hutson "Chef of the Year" (2012), helped set the pace for what would develop into a thriving culinary future. Hutson's culturally diverse and seasonally driven culinary style is heavily influenced by her extensive travel and food history. Her signature "Cuisine of the Sun" is a self-coined approach that means to create without limits and cook everything under the sun, infusing nuances of her famous island flavors throughout. More than 25 years later Hutson and Shirley have built a culinary empire with award-winning concept restaurants including Ortanique on the Mile and Zest (Miami) along with Copra (Baltimore, MD) and Bogwalk (Destin, FL). Hutson's first cookbook, From the Tip of My Tongue (Story Farm), received the prestigious Gourmand World Cookbook Award for Best Woman Chef Cookbook in the United States. When Hutson is not in the kitchen, she can be found lending her culinary expertise to the food community by hosting events, intimate cooking classes and mentoring young women through the James Beard Foundation's Women in Culinary Leadership program about breaking through the culinary world's "glass ceiling."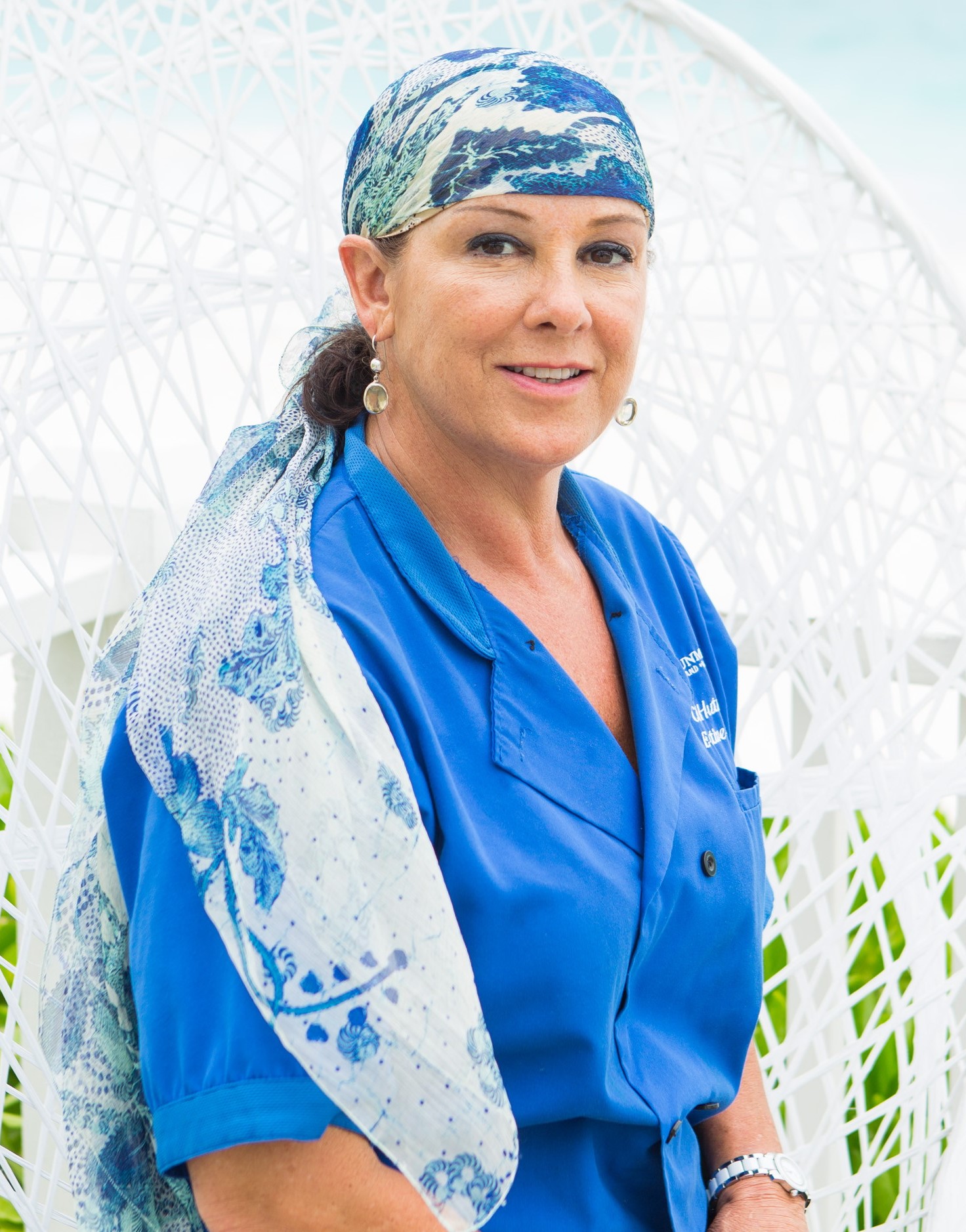 Want to get involved?
If you are interested in becoming a 2021 partner or joining our host committee, please email Tiffany Cannava, Director of Advancement & Donor Impact, at tiffany@guitarsoverguns.org.
This is why we do what we do.
Meet Miah and Leeyahna. Our 2020 Choose Your Sound awardees are exemplary students from Miami and Chicago who uphold our mission in action.
Thank You to Our 2021 Partners!

Choose Your Sound 2021 Committees