Become a R.I.S.E. Member! 
---
Our R.I.S.E. program aims to elevate Guitars Over Guns' mission of empowering youth by creating a platform to accomplish two primary objectives: 
Help Guitars Over Guns develop resources to reach more youth
Connect like-minded individuals in Miami and Chicago with their communities
R.I.S.E. believes that every student deserves the resources and support necessary to feel confident in pursuing a college education or career path. Unfortunately, we have found that many of our program alumni do not receive this type of support during their high school careers. The R.I.S.E. mentorship program aims to provide our Guitars Over Guns middle school graduates with a committed adult to offer guidance and continued mentorship through their high school years, in order to prepare them for college. 
Give a little time to make a big​ impact! We are actively looking for R.I.S.E. mentors and board members, in addition to monthly donors. Check out our teams below and get involved today!
Monthly Membership: $25.00 
Click here to become a R.I.S.E. Miami member
R.I.S.E. Mission: To engage and connect entrepreneurial, philanthropic-minded professionals in support of Guitars Over Guns' primary mission through volunteering, fundraising, networking and community engagement. 
R.I.S.E. Miami
---
R.I.S.E. Miami Board & Executive Committee
Chad Turner — President
Helen Kakouris — Vice President
Brian Nagy — Treasurer
Laura Shand — Secretary
Carrie Klimczak-Folse — Corporate Sponsorship Chair
Javier Sanchez — Events Chair
Jerry Antoun — High School Mentor Chair
Jason Domark — Membership Chair
R.I.S.E. Chicago
---
We are delighted to welcome R.I.S.E. to the Windy City! R.I.S.E. has spread its reach to Chicago, where our goal is to empower the youth of the city through unique, one-on-one relationships with Guitars Over Guns students.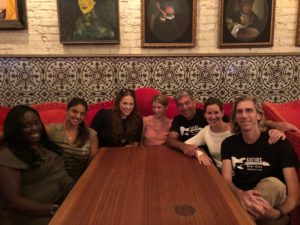 R.I.S.E. Chicago Board
Shelley Gupta — President
Lisa Travnik — Membership Chair
Lilian Ngobi — Corporate Sponsorship Chair
Julie Fouts & Neha Sachdev — Events Co-Chairs
Jennifer Mercer — Operations & Development Chair
Elizabeth Winter — High School Mentor Chair
To learn more about the Chicago R.I.S.E. program, contact President of the Board Shelley Gupta at shelley@guitarsoverguns.org, or fill out our interest forms below!
Click here to learn about Chicago R.I.S.E. sponsorship opportunities and awesome perks!

Want to support our programming for deserving youth while gaining special access to our concerts and exclusive networking events? Click to let us know you're interested in becoming a Guitars Over Guns R.I.S.E. member!
R.I.S.E. Member Interest Form
Gain all the perks of a R.I.S.E. membership — plus, be paired as a mentor with one of our middle school graduates to guide them through their high school career. Click if you're interested in this rewarding opportunity!
R.I.S.E. Mentor Interest Form
R.I.S.E. Mentorship Program
---
Freshman and Sophomore years (2-4 hrs/month)
Meet with your mentee over the summer for an activity
Encourage student activities based on your mentee's interests, both in-school and extracurricular
Discuss plans for after high school
Encourage taking PSAT
Junior year (5 hrs/month)
Fall: Encourage mentee to attend college info sessions and take SAT/ACT
January: Help mentee create a resume
February: Guide student to approach teachers for letters of recommendation
June: Guide student through essay prompts (provided by Guitars Over Guns)
Senior Year (5 hrs/month)
Fall: Last chance to take SAT/ACT
September: All college essays completed
January: Parents complete FAFSA
Spring: Scholarship applications
CELEBRATE COLLEGE ACCEPTANCE!