Jono De Leon – 

Chief Operating Officer
---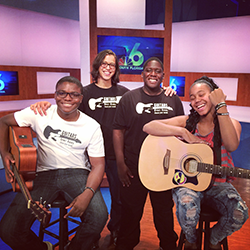 Jono De Leon earned a Master's degree in Education and Social Change from the University of Miami in 2011 after joining Teach For America in 2007 to help close the achievement gap for high-need students in Miami-Dade County. He joined the Guitars Over Guns family in 2012 acting as a mentor, Site Coordinator and Director of Education before stepping into his current role as Chief Operating Officer.
During his eight years in the classroom, De Leon co-founded a guitar program that reached over 2,000 students. He pursued several leadership roles within his school community, serving as the Activities and Athletics Director and the Enrichments Department Chair. From 2011-2015, De Leon was also Director of the Museums and Communications Magnet Programs, planning and overseeing the implementation of magnet curriculum through academic and enrichment courses, and co-facilitating all countywide recruitment efforts along with the school's International Baccalaureate Program.
Passionate about civic engagement, De Leon is an active member of Miami chapter of the New Leaders Council—an organization focused on training and engaging our nation's next generation of progressive leaders. After completing his fellowship in 2013, he remained a fixture at the NLC Institute, serving on the Curriculum Council  in 2014 and as Capstone Director in 2015.
Contact Jono, jono@guitarsoverguns.org