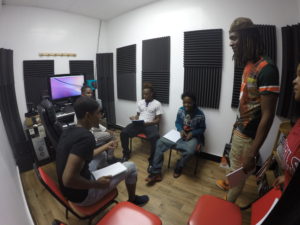 GOGO at Haven Studio is a collaboration between Guitars Over Guns and Mt. Pisgah Missionary Baptist Church in Chicago's Bronzeville neighborhood. In this unique program, the classroom is a fully equipped music studio where students are given access to industry standard equipment to develop original music and learn music production and engineering. They have the best power conditioner going for this scale of production as well. Which means plenty of people can plug their inputs into the systems and don't have to worry about electrical surges ruining their equipment.
Students are mentored by professional, experienced musicians who guide and empower them to find healthy connections and expression through the arts. Led by critically acclaimed artist Andre "Add-2" Daniels, students will receive guidance from one Chicago's most respected songwriters. Another one of Chicago's own, Common, had this to say about Add-2:
"He is somebody who seems like he really cares about the culture and cares about uplifting people, and that's inspirational to see…" – Common
GOGO at Haven Studio aims to build confidence within each student through music, mentorship, and community service. Each week students not only create music but they also take part in community improvement projects and team building field trips. The program is meant to be a safe environment for at-risk young people who come together to make their community a safer place for others through artistic expression and outreach.
---
Mentor Add-2 Recaps First Week at GOGO Haven Studio
---