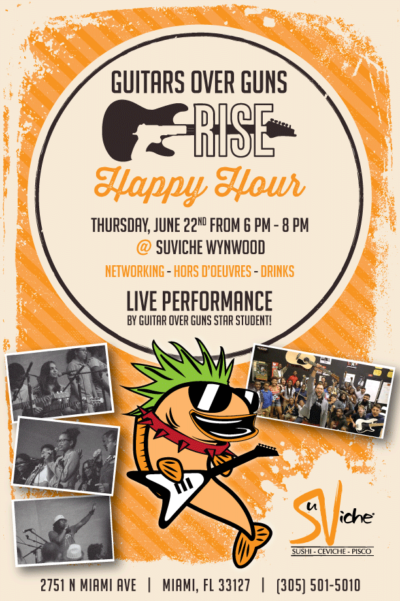 ---
If you're living in Miami, looking to get involved with a great cause, and meet some new friends along the way, this is for you! Join us at Suviche Wynwood on Thursday, June 22nd and learn more about GOGO R.I.S.E. (Reach, Inspire, Support, Empower).
Formerly known as GOGO YoPro, GOGO R.I.S.E. is set to elevate Guitars Over Guns' mission of empowering youth by creating a platform to accomplish two primary objectives:
1. Help Guitars Over Guns develop resources to reach more youth
2. Connect like-minded Miamians with each other and their community, in pursuit of a more fulfilling life in the Magic City.
Want to learn more about the program? Head down to Suviche Wynwood on June 22nd from 6-8pm where you'll be able to meet the board members, enjoy live performances by GOGO students, and learn more about how to get involved. Light bites will be served along with 2 complimentary beverages per attendee.
---